10 Olympic Events to Inspire Healthy Cleaning
Posted by David Hornick on Thursday, February 24, 2022 at 7:08 AM
By David Hornick / February 24, 2022
Comment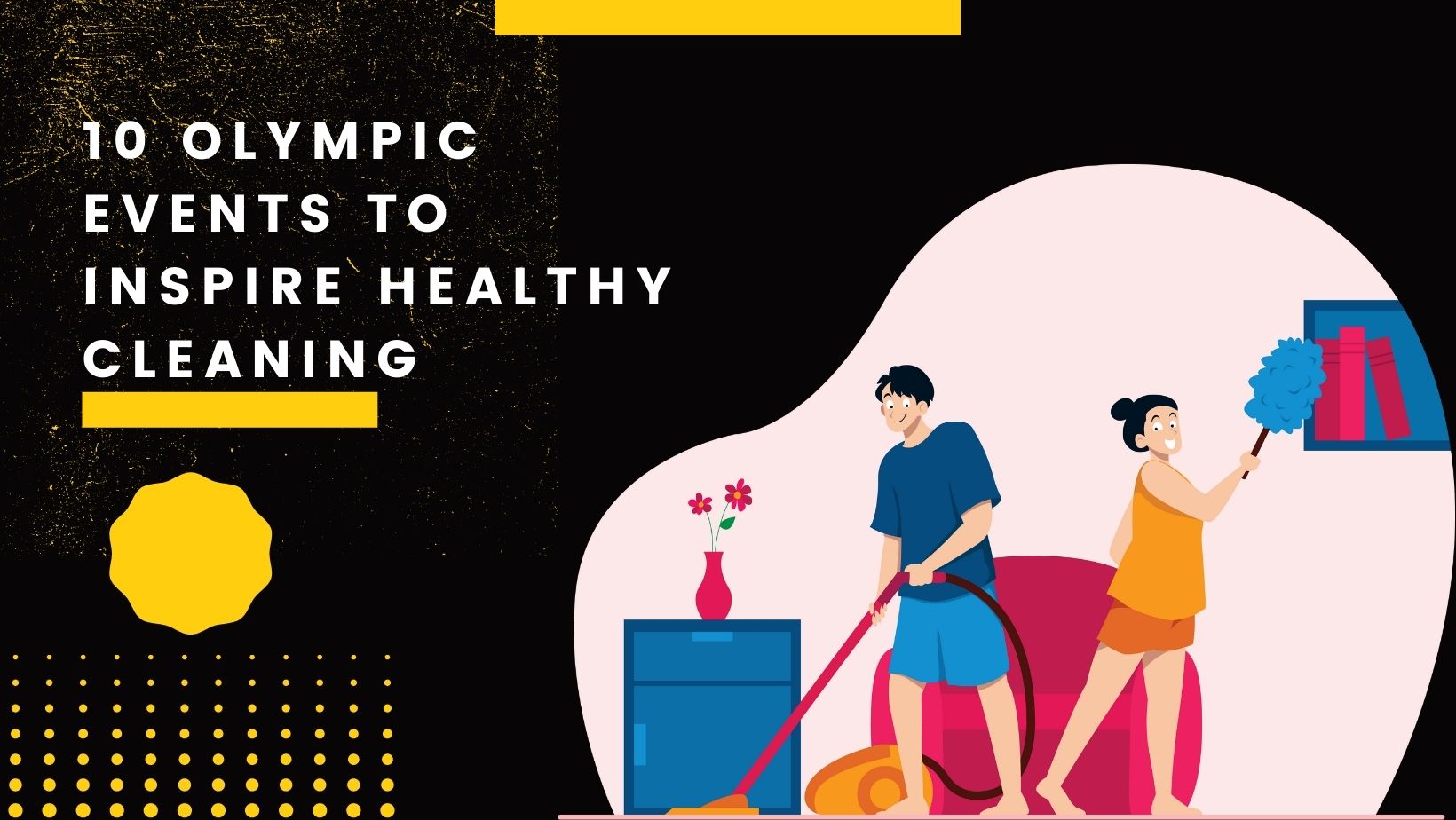 Cleaning the house is a necessary chore that some people enjoy and others dread and procrastinate. No matter your view, why not make performing the tasks beneficial by focusing on exercising while completing the chores? If you have children, you can help them find enjoyable ways of finishing a project that needs to be done while getting exercise at the same time. Gather your team's cleaning equipment, do some stretches then go for the win!
Tidy up living areas.
Practice your weightlifting with squats while you pick up clutter from the floor and put items away. Be sure to use good form while lifting heavy (or not-so-heavy) objects. Keep your feet apart, back straight and, using your core, "sit" on an invisible chair to pick up items while keeping your knees over your ankles.
Laundry.
Using only one hand, players have eight minutes to transfer dirty laundry from hampers to the washing machine for the goal a la water polo. Because you have to move fast, be careful not to get a foul called on you by kicking or pushing another player.
Clean pet areas.
Hold your breath as you swim through the smelly duty of collecting and disposing of pet waste. Wear goggles or other eye protection to keep from getting kitty litter, pet dander or dust in your eyes while you clean cages, litter boxes and other pet-occupied areas.
Dusting.
Keep those arms up and impress your team with your figure skating skills while you dust ceiling fan blades, high shelves and windowsills. Keep your balance while you spin, turn and jump to get to those hard-to-reach spots.
Cleaning the bathroom.
Impress the judges while you leap through your bathroom cleaning tasks inspired by an exciting gymnastics floor exercise Coordinate your cleaning to an upbeat tune and give the sink, toilet and tub a gold medal-worthy scrubbing while keeping your toes pointed. Bonus points if you do the splits at the end of your routine!
Washing dishes.
Freestyle wrestle those dirty dishes into submission and get extra points awarded for taking the offensive approach. Get points for takedowns but be careful; breaking dishes will result in penalties! Rubber gloves can help protect you from hot water burns.
Window cleaning.
Set up the bar for your high jump attempts to wash the tops of the windows. Lots of practice will help you perfect your approach, takeoff and clearance and set a record for streak-free panes. Don't dislodge any glass, though!
Sweeping and mopping.
Slip on your "slider" and "gripper" shoes, pull out your favorite mop and broom and get ready for some curling action to clean your floors. This is a team event so you can take turns to score points. Wet floors are slippery so wait until they're dry to accept your gold medal.
Vacuuming.
Go for the goal hockey-style by weaving your vacuum cleaner around the furniture "defenders" and avoiding other obstacles like curtains, bedspreads and throw rugs that could trip you up. Make sure your equipment is in good working order by replacing full vacuum bags and worn belts.
Throwing out the trash.
Be a basketball star by making three-pointers with trash bags. Don't get fooled, though, with bags that miss the dumpster and spill all over! Layups are a better option for the extra full bags.
Related: Best time of year to start a garden
As we enjoy the Olympic games this year, this is a great way to get inspired to clean your house in a new and creative way. For all Cedar City homes for sale, contact us at any time.
No Matching Listings
Try a new search, or click below to get notified when matching listings become available.